Our Mission
Help people at or below the poverty level in the state of Arizona  who are in need of food, clothing, shelter improvement, and other necessities to assist in their day to day living.
The Tierra Antigua Hope Foundation was established in 2014 with the goal of giving back to the community that has given so much to us. Our passion for giving back is fueled by Founder Kim Clifton who says it best; "It's so important, especially for local business owners, to give back. If it weren't for this community, we would have nothing."
Tierra Antigua REALTORS® are at the forefront of spreading hope throughout Southern Arizona. Their belief in our mission has brought them to commit their personal time, belongings, and even consistently choosing to contribute a portion of their commissions to the foundation.
We are proud to Live Local Give Local!
---
Get Your Money Back, Dollar for Dollar, When You Donate!
Donations made to the Hope Foundation now qualify for Arizona Qualifying Charitable Organizations Tax Credit. 
The tax credit is claimed on Form 321. The maximum credit allowed is $841 for married filing joint filers and $421 for single, heads of household, and married filing separate filers. 
The individual income tax credit is available for contributions to Qualifying Charitable Organizations that provide immediate basic needs to residents of Arizona who receive temporary assistance for needy families (TANF) benefits, are low income residents of Arizona, or are children who have a chronic illness or physical disability.
CLICK HERE for more information!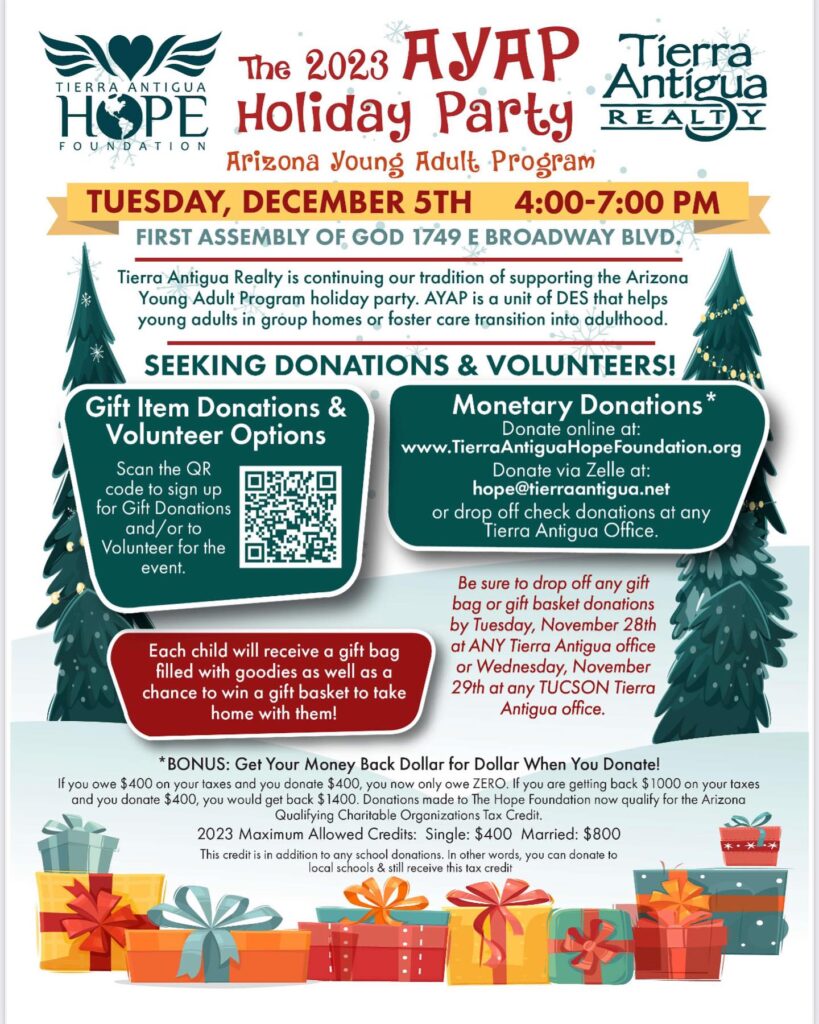 ---
2023 Giving in Action
In 2023 we have successfully completed the following outreach projects in Tucson and Southern Arizona.
We have fed over 1400 meals at "The Lot" which is a site that provides meals to our homeless and impoverished members of our community.
We have stocked the food pantry at Unleashed Christian Church which has provided 725 people with food who would otherwise go without.
50 backpacks were given out to youth in our community who fall below the poverty line. We still have 250 left to distribute.
The Sierra Vista Tierra Antigua Agents volunteered with our Hope Board Members and supplied Good Neighbor Alliance with three months of shower supplies to their daily visitors who are homeless and in need.
Hope foundation partners with the Care Portal here in Tucson who provide beds/furniture to children transitioning into foster situations who do not have any items of their own. This year alone we have been able to help 64 children in these situations. We have filled the Hope Foundation trailer with beds, bedding, dressers and more so when we are called upon we can supply these to children in need during a very difficult transition in their lives.
These are just a few of the outreach programs that we have completed and the end of the year is the busiest time of year for Tierra Antigua Hope Foundation. In November we will provide a Thanksgiving meal to those who do not have a place to go for a warm Thanksgiving Meal. In December, the Tierra Antigua Hope Foundation hosts one of our biggest events providing The Arizona Young Adult Program with a holiday party which provides them with housewares, food, clothing, a holiday meal and a gathering they all look forward to each year!
As you can see above, The Tierra Antigua Hope Foundation gives back to our community all year long! Thank you for your continued support so we can continue these efforts in the upcoming months and years ahead!

Hope's Haunted Hustle: Sponsors (runsignup.com)
Thank you to our Sponsors for our upcoming Fun Walk/Run! This event would not be possible without their generosity and support! Click on link above to view our amazing sponsors!
You can sign up for the Run/Walk by clicking this link below. If you can't attend on the day of the event you can use this link to donate to the event!
Hope's Haunted Hustle (runsignup.com)
Join us this fall for The First Annual Tierra Antigua Hope Foundation Fun Run! The Haunted Hustle will be held on October 22, 2023! We will host a 1.5 mile Fun Run/Walk and a 5K fun run at Reid Park! Come in your most haunting or festive Halloween running gear, get some exercise, and be part of this fun event supporting the Tierra Antigua Hope Foundation! Once you cross the finish line you will pick up your goodie bag from our sponsors and enjoy refreshments and snacks! The first three finishers in the 5k fun run will receive a prize. There will also be prizes for the Best Individual Costume and Best Team Costume! Come support a great cause and have some fun doing it!! If you cannot attend the race, you can still donate on this site. We hope you participate and enjoy this inaugural event!
Our 2022 AYAP Party was a huge success!
There were over 100 essential gift baskets provided to all our attendees along with prizes, a hoodie, and a warm holiday meal! This event would not be possible without the hard work of the Tierra Antigua Hope Foundation Board, volunteers, and generous donations from all of you!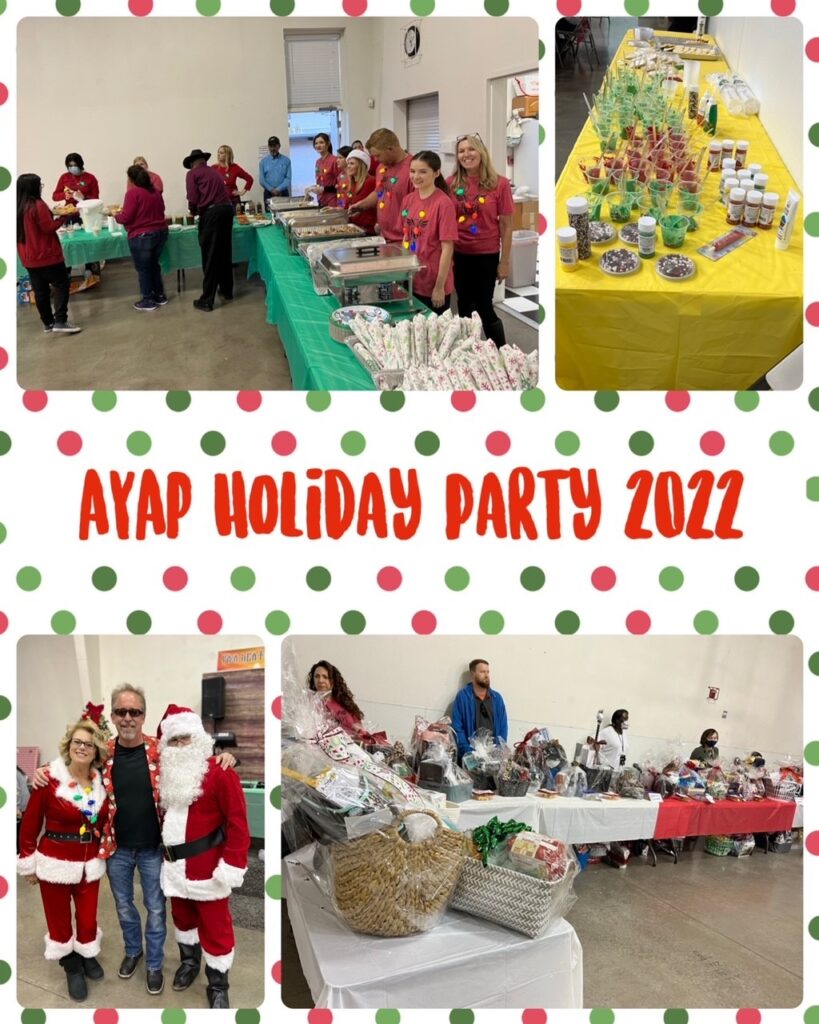 AYAP PARTY 2021 : Back in Person and so many served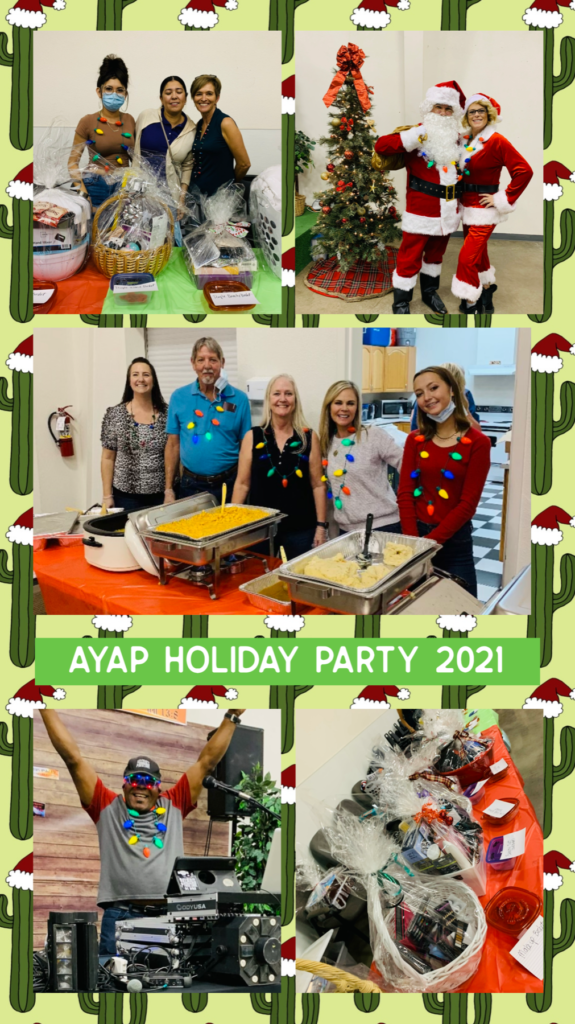 Since April 2020 We Have:
· Donated $10k to food bank
· Donated $1,000 to Casa Maria Soup Kitchen
· Donated $27,000 to Sister Jose's Women's Shelter in the form of sack lunches provided by Frog & Firkin (8500 sandwich bags were provided) from April to August.
·Donated $1,500 worth of food to Casa Maria Soup Kitchen so they could prepare soup/food for their daily food lines.
---
Here is a recent video from the Hope Foundation staff explaining what Hope is all about! This video was aired prior to our First ever Drive In Live Concert Fundraiser that was held on 9/24/2020. This event helped raise approximately, $18K for Tierra Antigua Hope Foundation! Stay tuned for upcoming events to support the Foundation!
---
Please consider following our Tierra Antigua Hope Foundation Facebook page for more information.